On behalf of all Pipe Bands NSW members and bands I would like to extend to you a very warm welcome.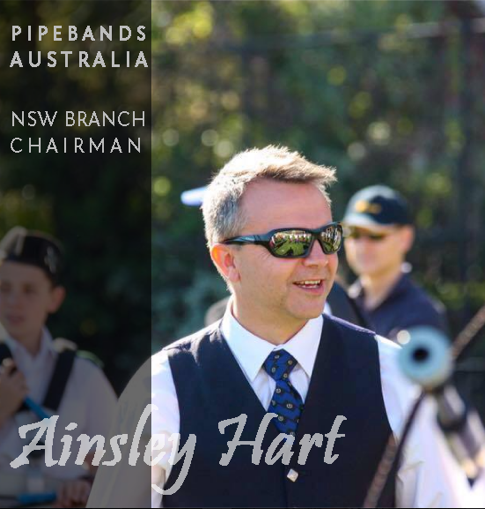 Congratulations and thanks to Canberra Highland Society and the Canberra College of Piping and Drumming for staging a highly successful ACT Pipe Band Contest and Solo Championships last weekend. A great family day that was well attended by the public and bands from NSW, Victoria and SA.
Congratulations also to those who placed and also to those who did not. Every band and every soloist invested considerable time, effort and expense to be there on the day and these efforts are to be recognised and applauded!
The NSW Branch is pleased to advise that our shiny new online contest entry and payment system is now operational and in place for The Central Coast Scottish Spectacular, NSW State Pipe Band Championships, CCSS Solos, and NSW State Solos. Following some months of development work, the online system offers contest syllabi, entry conditions, event selection and PayPal payment facilities all in the same place.
A reminder to get your entries in for the NSW State Pipe Band Championships and Solo events in Gosford on Sunday 5th November and the NSW State Solo Championships at Scots College Bellevue Hill on Sunday 19th November.
Links to various online entry portals appear below. Best wishes to all from Ainsley.
NSW Pipe Band Championships
The Entertainment Grounds
Gosford SUNDAY 5th November
NSW Pipe Band Championships Entries close Monday 23.10 - ENTRIES NOW CLOSED

Central Coast Piping Solos entries close Tue 24.10 ENTRIES NOW CLOSED
DM John McFarland Solo Drumming Entries close Tue 24.10 ENTRIES NOW CLOSED
Central Coast Scottish Spectacular 5.11 – Event Info HERE
NSW State Solos
Scots College
Bellevue Hill SUNDAY 19th November
New Extended Closing Date Monday 13.11 ENTER HERE